When:
May 2, 2017 @ 8:30 pm – 10:00 pm
2017-05-02T20:30:00-04:00
2017-05-02T22:00:00-04:00
Where:
Capoeira Camará Toronto
35 Golden Ave
Toronto, ON M6R 2J5
Canada

Beginner Introductory Classes (New students up to 5 years of experience)
NO EXPERIENCE IS NECESSARY!!!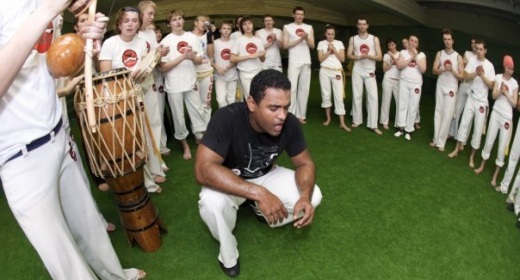 For beginners it is highly recommended that you watch a class before you begin to train. Once you are ready to try a class, each beginner term begins on the FIRST MONDAY OF MONTH between 8:00 – 9:15 pm.  These classes are VERY basic and NO EXPERIENCE IS NECESSARY for these classes. We will begin by showing you the basics of the art form (music, history, acrobatic, language,  game) and begin to work on your strength and flexibility. After completing 2 months of beginner introductory classes, you can then move up to the Level 2 Classes.
Please wear comfortable clothing (clothing which you would wear to a gym) as you WILL sweat! After two months, beginners are required to purchase uniforms (shirt and pants).
*** NOTE: In order to ensure the best teaching environment, space is limited for Beginner classes. Please sign up as soon as possible to reserve your spot!
Next Beginner Session: FIRST THURSDAY of EVERY MONTH