When:
May 22, 2017 @ 8:30 pm – 10:00 pm
2017-05-22T20:30:00-04:00
2017-05-22T22:00:00-04:00
Where:
Capoeira Camará Toronto
35 Golden Ave
Toronto, ON M6R 2J5
Canada

Intermediate & Advanced Classes (5+ years of experience)
NOW YOUR JOURNEY BEGINS…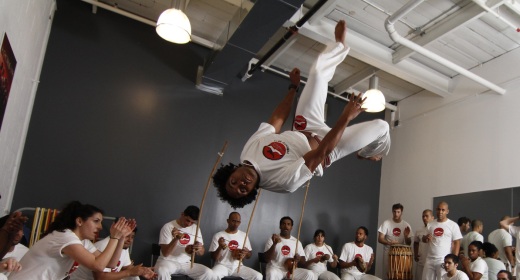 These classes are more rigorous and you will really begin your journey into the art of capoeira. These classes will really begin to push you physically and mentally as you gain a deeper understanding of the art (music, history, acrobatic, language,  game) and as you prepare for the action of the capoeira roda. You will begin to advance through the capoeira belt (cordão) ranking system through participation in various events.
*** NOTE: In order to ensure the best teaching environment, space is limited. Please sign up as soon as possible to reserve your spot!
Next Session: SIGN UP ANYTIME (limited space)