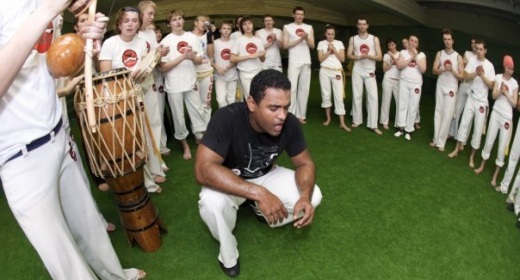 Capoeira Camará founder Mestre Bola (Marinaldo Da Silva) was born in Olinda, Pernambuco – a thriving centre of Afro-Brazilian culture with a long-standing Capoeira tradition. He began training with a top Capoeira Master in 1988. Initially, Bola moved to Vancouver in 1995 where he taught Capoeira for some time, but then relocated to Toronto in 2000 to open an academy. In 2005 he founded Capoeira Camará, which now includes academies in Toronto, Brampton, Vancouver, Calgary,  Ireland, Bermuda, Russia, the Ukraine, Hong Kong, Malaysia and Brazil.
Beyond his teaching duties in Toronto, Mestre Bola participates in numerous Capoeira events all over the world. He is also an accomplished musician and is responsible for producing five successful annual Batizado e Troca da Corda shows. Overall, Mestre Bola has been promoting Brazilian culture and Capoeira for over 26 years. His travels have taken him to training sessions and performances in St. Croix and to Capoeira workshops as far away as Russia.
Mestre Bola's Capoeira expertise and leadership have also earned him international recognition. And, on numerous occasions, major media in Canada, Europe and Brazil exclusively have interviewed him.